Jewish resources for Election Day, terrorist attack in Vienna, cemetery vandalism in Michigan
Today is Election Day. Here are some Jewish resources for following along:
JTA has a list of key Jewish races here. It also has stories on the 48 Jewish candidates running in congressional races: four Democrats running as challengers for Senate seats; 10 Republicans, including two incumbents and eight challengers; 23 Jewish Democratic incumbents and 11 Jewish challengers.
Reflection 2020: A Moving Traditions Election Toolkit for Teens has wisdom, poetry, play-lists, questions for reflection and conversation prompts for teens and their families.
Keshet has post-election events for LGBTQ and Ally Teens and for Jewish Youth of Color.
Truah, the progressive rabbis' group, hosts a Tikkun Leyl Election featuring three hours of teaching, musical performances and even yoga to keep you calm. Tonight from 8:00 pm to 11:00 pm.
Rabbis Rachel Timoner and Stephanie Kolin of Brooklyn's Congregation Beth Elohim have written "A Prayer for Our Country" for Election Day.
In the JOFA Blog, a young woman describes how she was inspired by Ruth Bader Ginsburg's example to volunteer and get out the vote.
The Jewish Education Project has a "Civic Responsibility 2020" page with selected resources for educators about Civic Education and Engagement in Jewish Education.
Jewish institutions in Vienna will remain closed Tuesday after a gunman opened fire at multiple locations across the city center, killing at least four people and wounding 15 more.
What authorities described as a terrorist attack occurred Monday near an area in Vienna with several synagogues, but the attack did not involve the Jewish institutions, the president of the city's Jewish communal organization said.
The single suspect, armed with a rifle and fake explosive vest, was killed by police. NPR reports that the suspect was a 20-year-old dual citizen of Austria and North Macedonia who spent time in prison after attempting to travel to Syria to join the so-called Islamic State.
A Jewish cemetery in Michigan was tagged with blood-red graffiti reading "TRUMP" and "MAGA."
The 100-year-old cemetery in the western Michigan city of Grand Rapids belongs to Congregation Ahavas Israel, a Conservative synagogue, JTA reports. Rabbi David Krishef says the vandalism was discovered Monday and is presumed to have occurred over the weekend.
President Trump's final campaign rally was held in the Grand Rapids area on Monday.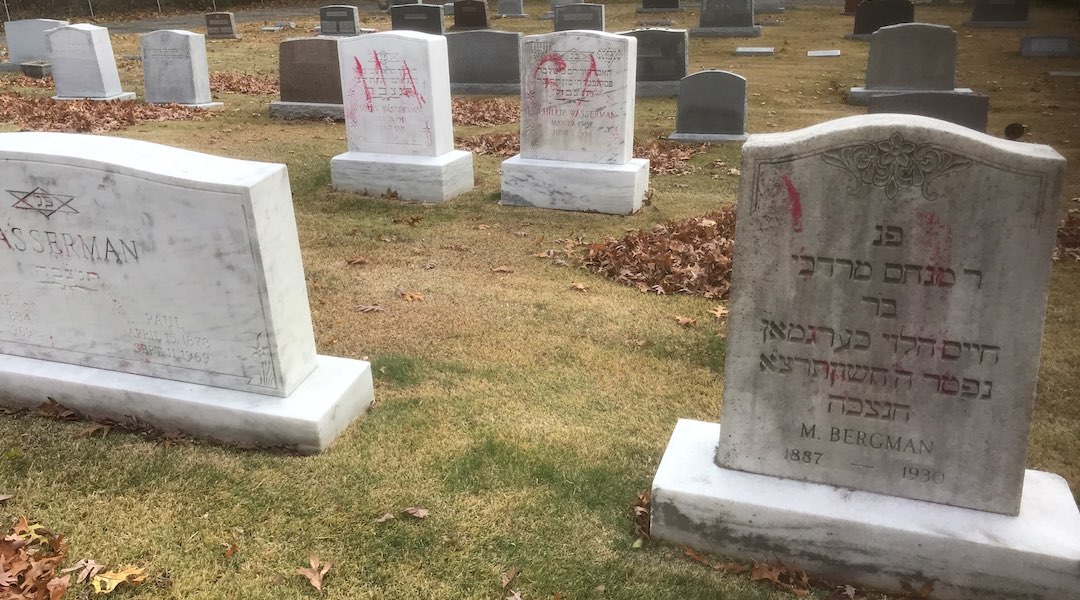 Election Day caps a season of unusual partisan political activity by Orthodox Jews in New York.
In contrast with 2016, when Trump garnered a slight majority of the Orthodox vote but less open enthusiasm for his candidacy, Orthodox rabbis have endorsed Trump and his Orthodox supporters have rallied in support of him. Supporters point to Trump's record on Israel, anger over Covid-19 restrictions by New York's Democratic leaders, and even the commutation of the sentence of kosher meat mogul Sholom Rubashkin. JTA reports.
Feminist pioneer Letty Cottin Pogrebin reflects on the legal and legislative battles ahead now that the Supreme Court has a solid conservative majority.
In an interview with The Jewish Week, Pogrebin said the "struggle is never over" for abortion rights and church/state rulings that have long protected Jews and other minorities. "Don't take your rights for granted," she advised young activists.
A Florida high school principal who was fired and rehired after refusing to say whether the Holocaust was a historical event was fired again.
On Monday, weeks after voting to rehire William Latson, the Palm Beach County School Board voted unanimously to fire him again. Members said their decision, coming after a deluge of public comment, represented a statement of the district's values that transcends the risk of litigation, according to a report in the Palm Beach Post.
Latson has apologized and has denied being a Holocaust denier.
Opinion
Trump or Biden? Matt Nosanchuk, the liaison to the Jewish community in the Obama-Biden White House, says the former vice president's "record of support for Holocaust survivors and the Jewish community is second to none. On the other hand is Donald Trump, a demagogue whose slogans, tactics and policies concern many survivors as deeply immoral and disturbing."
Alan Langer, a self-described conservative Republican, said Trump has satisfied former skeptics like him because he "appointed originalists to the Supreme Court, cut taxes, slashed regulation, reaffirmed America's support for Israel and he has forced terrorist states like Iran on to the back foot."
Streaming Today
Temple Emanu-El Streicker Center presents Dr. Amy-Jill Levine in a discussion of how and why Jews and Christians have disagreed over biblical interpretation in the past, and how, with knowledge of history and theology, they can today better appreciate each other's interpretations. Levine, University Professor of New Testament and Jewish Studies and Mary Jane Werthan Professor of Jewish Studies at Vanderbilt Divinity School and Department of Jewish Studies, is the co-author,with Marc Z. Brettler, of "The Bible With and Without Jesus." Register here. 6:00 pm.